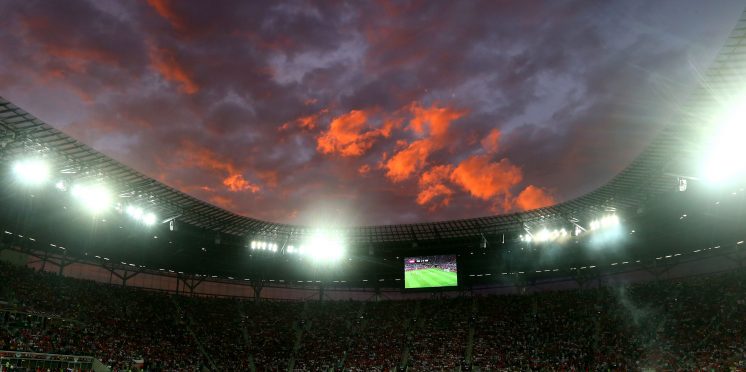 7 Players Who Decided to Stay at Home (#StayAtHome)
With the current COVID-19 global health crisis, we are all being urged to stay at home, and only leave our house when we need to do essential shopping or travel to work, if absolutely necessary. The majority of football competitions have been suspended until further notice, in order to protect each other, as well as the frontline health workers in every country. The message is simple, stay at home to stop the spread of COVID-19 and take the pressure off of the health system.
Over the years, there have been numerous footballers who decided to 'stay at home' and be loyal to their boyhood club. This sort of gesture does not only take great loyalty but also dedication, as some of these players faced many challenges along the way, whether that was competition for their place in the team, a new manager who perhaps did not initially like them, or there were numerous temptations to leave and join new clubs.
Here at Transfer News Central, we urge you to stay safe, stay at home, and enjoy these 7 players who showed great examples for staying at home.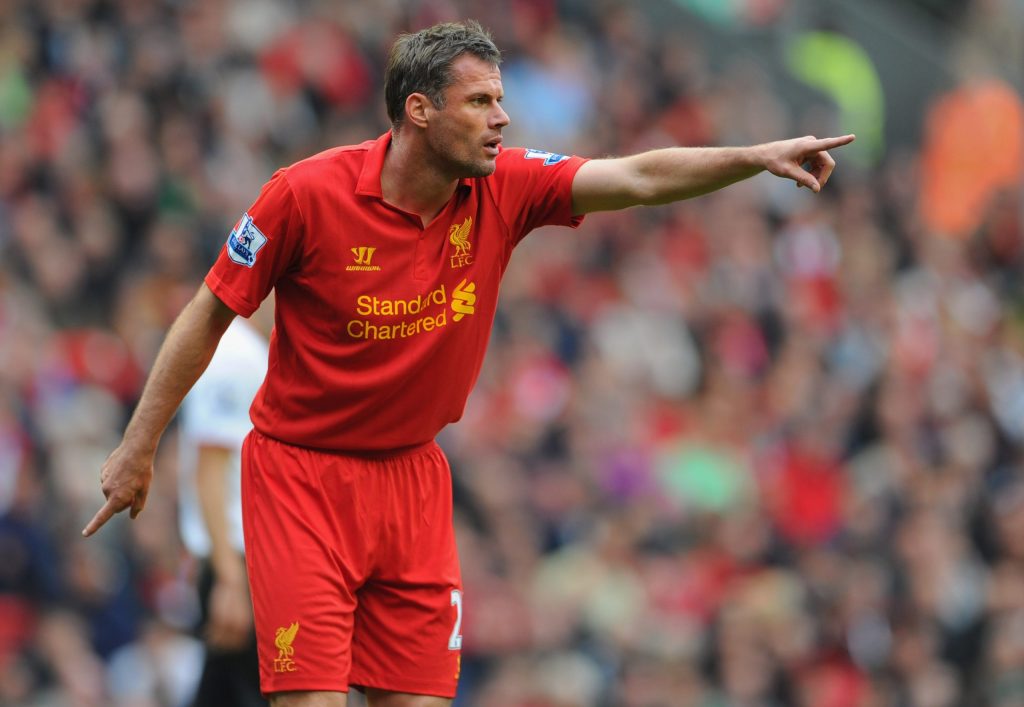 Jamie Carragher
Jamie Carragher was born in Bootle, a town near Liverpool, and only 10 minutes away from Anfield. Throughout his illustrious 17-year career in the Premier League, he never swayed from his boyhood club. During these 17 years, he was vice-captain for 10 of them, of course behind the legendary Steven Gerrard. Carragher made over 700 appearances for the Reds, falling behind only legendary midfielder Ian Callaghan in the Liverpool all-time appearances, while holding the record for most European competition appearances at 150. Over this period, he managed to win the Champions League once, FA Cup twice, League Cup on three occasions, UEFA Cup once, UEFA Super Cup twice, and the Community Shield twice as well. The Englishman joined Liverpool's academy as a 10-year-old and made his first-team debut in 1996, 8 years later. At the start of his Liverpool career he was deployed as a right-back, however, following the arrival of Spanish manager Rafael Benítez from Valencia, he was converted into a centre-back, with great success, forming rock-solid partnerships with Sami Hyypiä and later Martin Škrtel. Nowadays, he can be seen as a pundit on Sky Sports, beside former Manchester United right-back Gary Neville.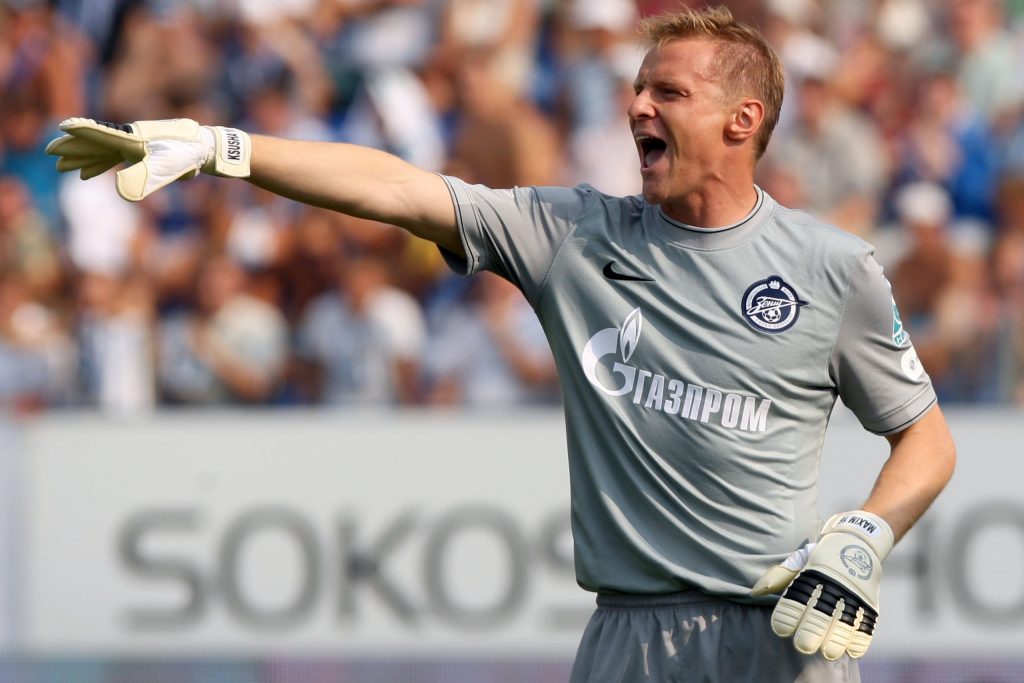 Vyacheslav Malafeev
Perhaps not as big of a household name as others on this list, Vyacheslav Malafeev is one of the great goalkeepers of Russian football. Born in Leningrad (later renamed Saint Petersburg) in 1979, Malafeev joined the Smena football school at the age of nine, before joining FC Zenit as an 18-year-old. The goalkeeper went on to play in over 400 games for the Russian outfit, across 17 seasons, which is still an all-time FC Zenit record to this day. During his long career between the sticks, he collected four Russian League titles, three Russian Cups, two Russian Super Cups, one UEFA Cup and one UEFA Super Cup. He was the first-choice goalkeeper for FC Zenit from 2001, all the way up to 2013, before eventually losing his spot to fellow Russian, Yuri Lodigin, however, that did not stop Malafeev from sticking with his boyhood club. Malafeev clearly bleeds Zenit blue, as following his retirement from professional football in 2016, he took on the role of assistant director of sports at FC Zenit in 2018.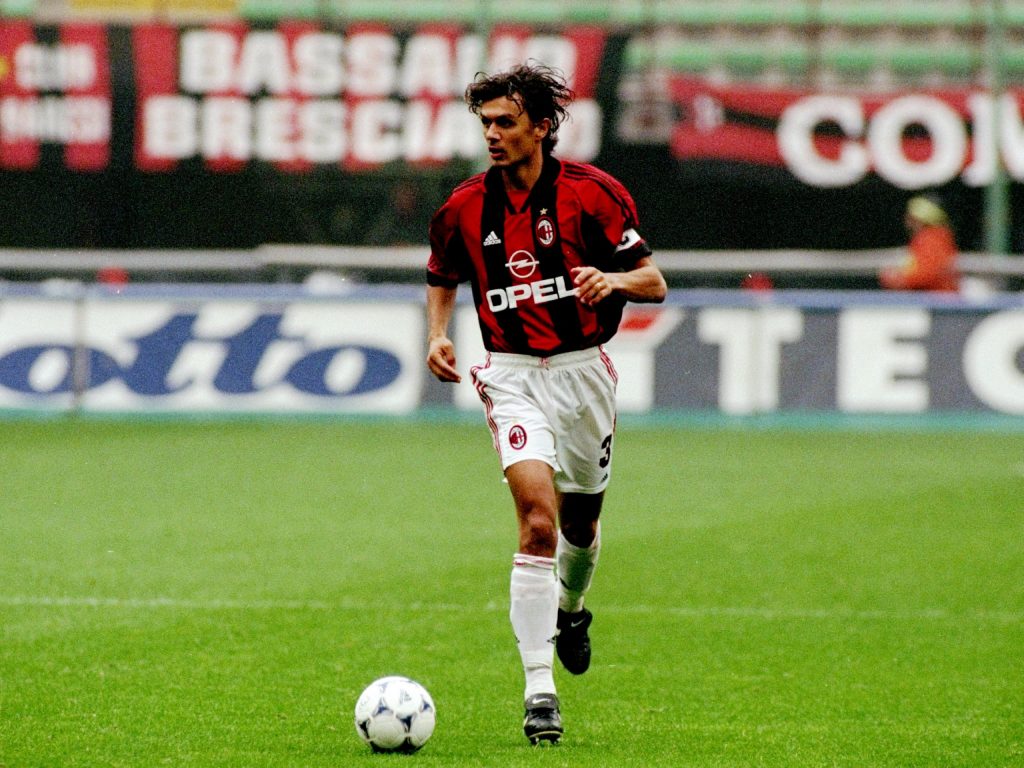 Paolo Maldini
Paolo Maldini was born and raised in Milan, where he joined the AC Milan youth team aged 10. He made his first team debut aged only 16 and spent every single one of his 25 years as a professional at his boyhood club. During his illustrious career, the Italian won 25 trophies – amongst which are seven Serie A titles, one Italian Cup, five Italian Super Cups, five European Cups (Champions League) and the FIFA Club World Cup. During his career, Maldini built himself the reputation of one of the greatest defenders of all time, with fellow players nicknaming him Il Capitano (The Captain), and he currently holds the record for most Serie A appearances alongside one Gianluigi Buffon. He was so influential in Milan, that after he retired from professional football in 2008-09, the club decided to retire his number 3 shirt. Il Capitano is currently serving as technical director at AC Milan, while also being the co-owner of USL Championship side Miami FC.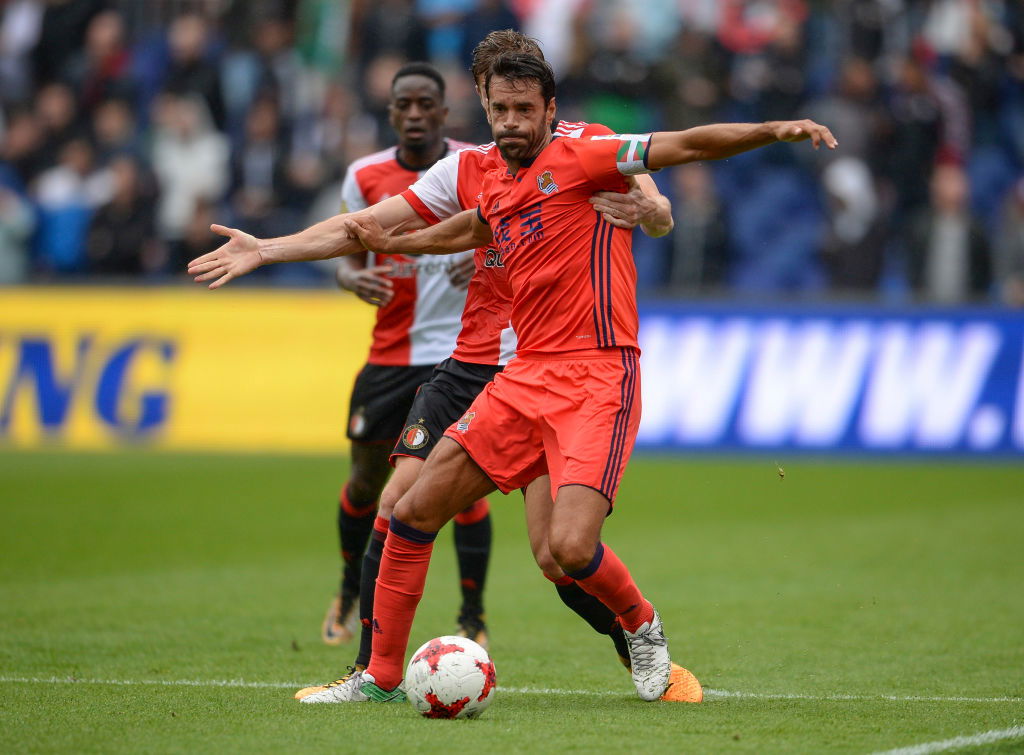 Xabi Prieto
Xabier Prieto Argarate was born on 29th of August 1983 in San Sebastián, Spain. He always knew where he wanted to end up, so after leaving school at the age of 16, he immediately joined Real Sociedad's youth system. Two years later he made his debut with the reserve team, before eventually graduating to the first team a year later. He went on to make over 500 appearances for the San Sebastián outfit, which is still the record at the club. During his 15 years in the first team, Xabi Prieto, as he was commonly known, became famous for his dribbling skills, as well as his dead-ball technique. Perhaps the only surprise is that he never won a major trophy and he never received a call-up to the Spain senior team. Following his 2018 retirement announcement, Real Sociedad arranged for the club to change its crest to Xabi's portrait for the final match, to honour their long-serving captain.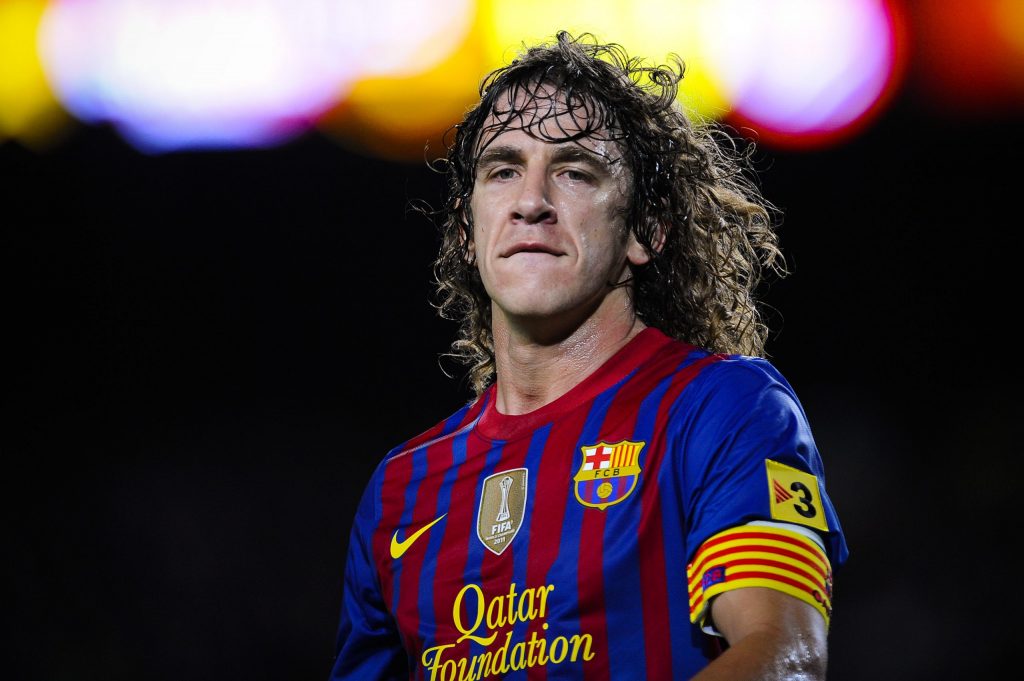 Carles Puyol
Hailed as one of the best defenders of his generation, Carles Puyol was born in La Pobla de Segur, just outside the city of Barcelona. He began his playing career at this hometown club as a goalkeeper, before injuries forced him to switch to forward. In 1995, as a 17-year-old, he joined FC Barcelona's famous La Masia youth system, where he became a defensive midfielder. In 1997 he was promoted to the club's B-team, where he once again switched positions, this time to right-back. A year later, FC Barcelona accepted an offer from Málaga CF for the services of Puyol, however, things could have been very different if Carles did not reject the move, following his very good friend's promotion to the senior team. That friend's name? Xavi Hernández, you might have heard of him. The following year, first team manager Louis van Gaal decided to promote Puyol, where he quickly established himself as the starter central defender. He went on to make almost 400 appearances for Blaugrana, with only Iniesta, Messi and Xavi ahead of him. Barcelona captain since 2004 until his retirement, Puyol won six La Liga titles, two Spanish Cups, eight Spanish Super Cups, three Champions League titles, three UEFA Super Cups, two FIFA Club World Cups, as well as Euro 2008 and 2010 World Cup with Spain.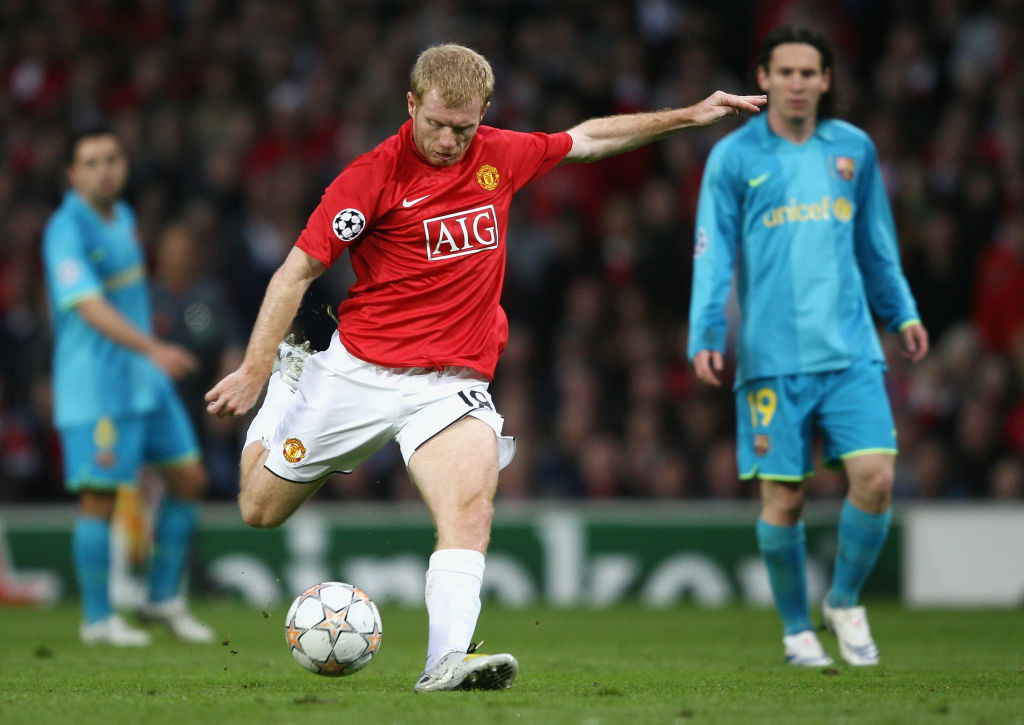 Paul Scholes
Paul Scholes, the Ginger Prince of Manchester was born in Salford, just over 10 minutes from Manchester, where he began training with Manchester United at the age of 14. It took another 6 years for Scholes to make his full first team debut, but he did not stop there, making over 700 appearances for the Red Devils, falling behind only legendary Sir Bobby Charlton and evergreen Ryan Giggs in the all-time Manchester United rankings. Scholes loved his boyhood club so much, that after his retirement from professional football at the end of the 2010-11 season, he decided to come out of retirement in January of 2012, due to United's injury crisis. During his 20 years as a professional, he collected eleven Premier League titles, four FA Cups, three English League Cups, five Community Shields, two Champions League trophies, as well as the FIFA Club World Cup – becoming the most decorated English player in history. Following his second retirement in 2013, Paul Scholes invested in Salford City alongside Phil and Gary Neville, Nicky Butt, Ryan Giggs and David Beckham. In 2019 he tried himself out as the manager of Oldham Athletic, however, he resigned from his role after only a month, following one victory in that period.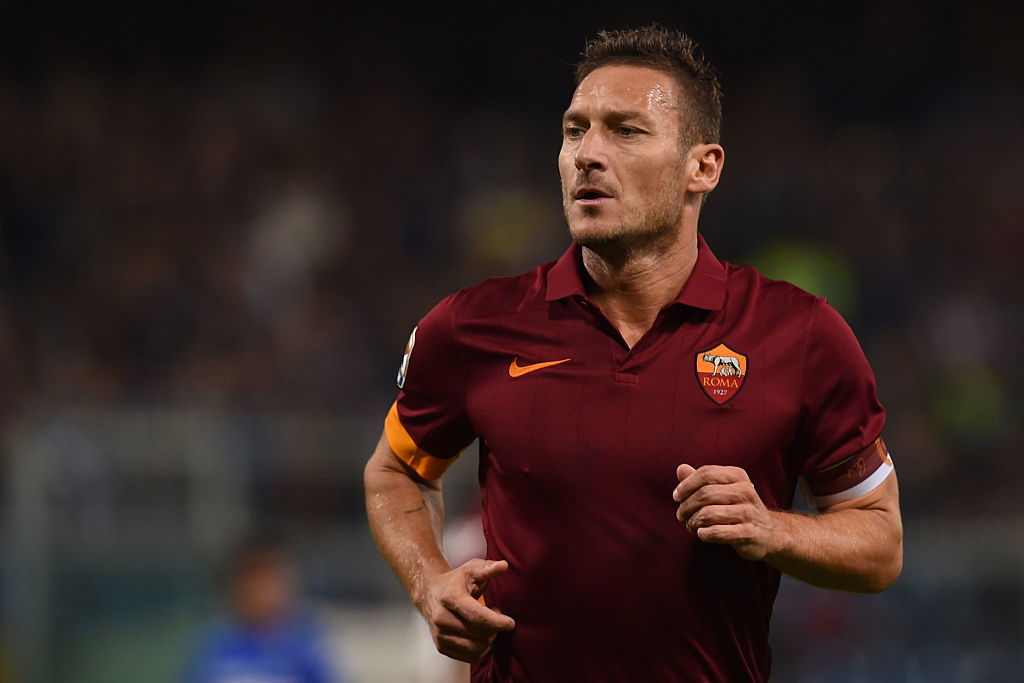 Francesco Totti
Il Gladiatore (The Gladiator) was born in the capital of Italy, where he idolised ex-Roma captain Giuseppe Giannini. Totti moved through a number of youth teams, finally ending up at AS Roma in 1989, after he rejected advances from AC Milan. After three years in AS Roma's youth team, Totti made his first team debut at the age of 16 – and as they say, the rest is history. Totti followed this outing with further 784 appearances in all competitions, leaving him at the top of AS Roma's all-time appearance list. In his 25 years for AS Roma, he managed to win Serie A once, as well as the Italian Cup and Italian Super Cup on two occasions each. His trophy cabinet perhaps could have been bigger if he accepted any of the lucrative offers made to him by numerous clubs, one of which was Real Madrid in 2004. However, Totti decided to stay loyal to his boyhood club. Totti announced his retirement in 2017 and he immediately took up a role on the Roma's management board. Nonetheless, he decided to step down after two years, as he believed the Roma board did not take any of his views into consideration. He ended his 30-year association with his boyhood club by saying: ''It'd be better if I died.'' 
---