How Chelsea Could Line Up For The 2019/20 Season
Despite finishing 3rd in the Premier League and winning a Europa League title, Chelsea Football Club find themselves in a sticky situation. Many managers would be given extensions after successful seasons like the one Maurizio Sarri had last season. However, the Italian was almost pushed out the door to Juventus with the Blues offering minimal resistance to stop his exit. With club legend Frank Lampard now at the helm, Chelsea fans may have to dampen their usually high expectations given the situation Lampard is inheriting.
It's no secret that Chelsea are set for a difficult season given their transfer ban and weakened squad. Losing star winger Eden Hazard is obviously the major loss, however the inability to add players through transfers has left the Blues looking inward to address their needs. This upcoming season may see increased roles for the likes of Tammy Abraham, Reece James, and Mason Mount. Loan cast-off Michy Batshuayi may also inherit a larger role.
With Lampard coming into the fold, Chelsea will most likely shift away from Maurizio Sarri's 4-3-3 tactics. In preseason friendlies, Lampard has run the 4-2-3-1 formation in three out of the four matches the Blues have played this season. For this article, I will be lining up Chelsea in the 4-2-3-1 formation.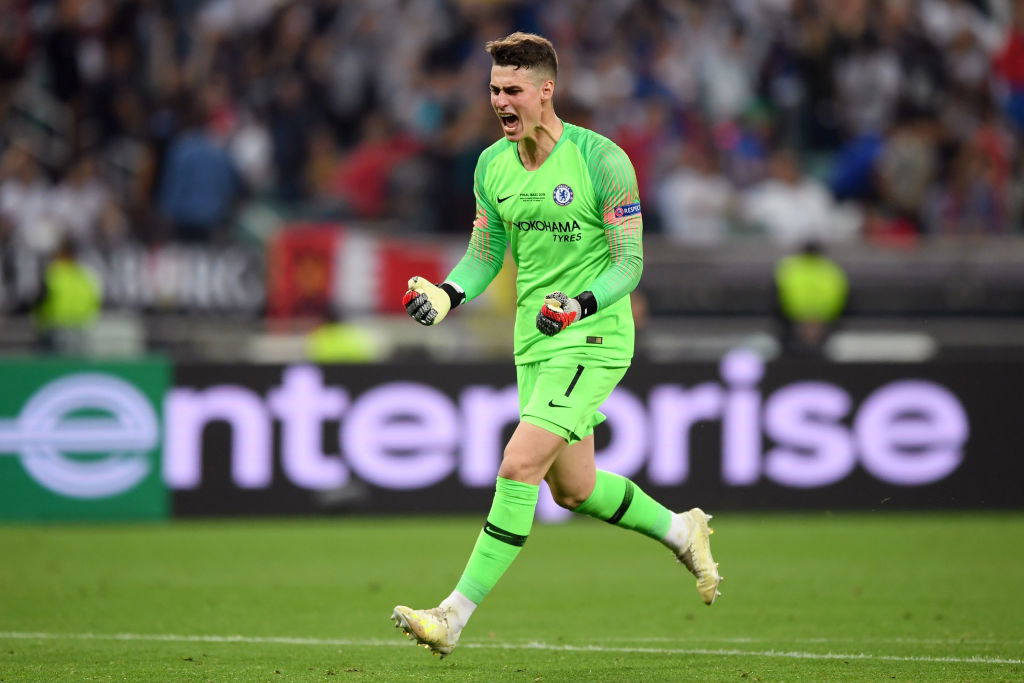 Goalkeeper
2018/19 Starter: Kepa Arrizabalaga
Aside from the juggernauts that were Manchester City and Liverpool's defenses, Chelsea finished third in the Premier League with 14 clean sheets last season. 24 year old goalkeeper Kepa Arrizabalaga was a major reason for the Blues defensive success. The Spaniard made multiple remarkable saves to preserve points for his side. After the strong season he had, Kepa will be Chelsea's keeper for the foreseeable future.
Projected 2019/20 Starter: Kepa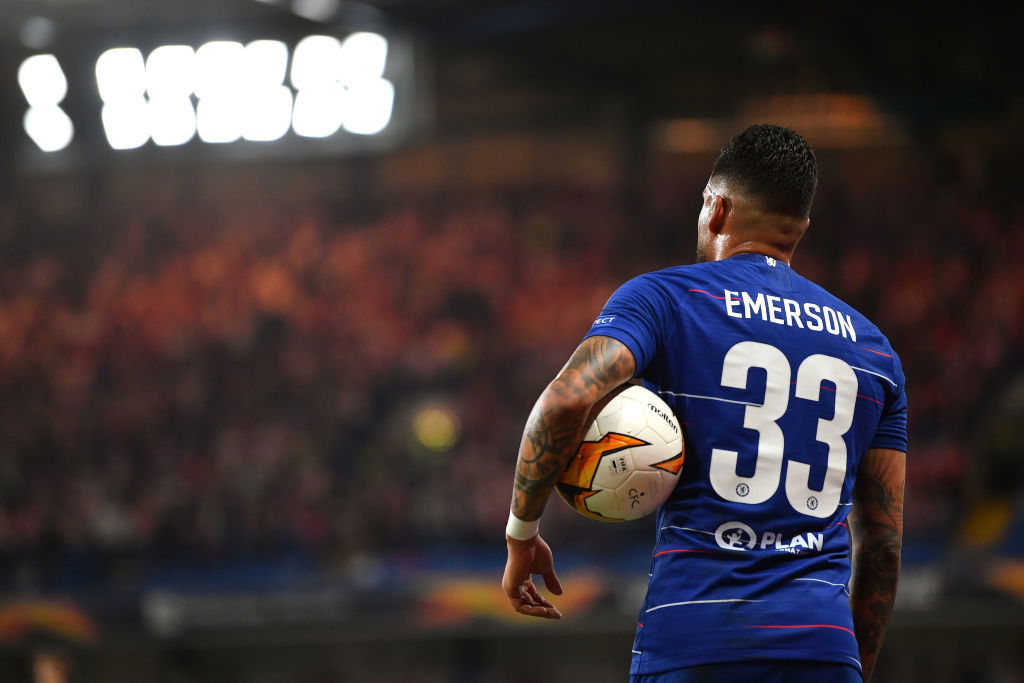 Left Back
2018/19 Starter: Emerson/Marcos Alonso
At the start of last season, Marcos Alonso was the primary left back for the Blues. However, strong performances by the Italian defender, Emerson nudged the Spaniard out of the starting role. At 24 years old, Emerson is a more well rounded left back than his Spanish counterpart. Fans have grown to favor him over Alonso and it appears Lampard shares in their thoughts. Emerson looks set to make the left back position his this upcoming season.
Projected 2019/20 Starter: Emerson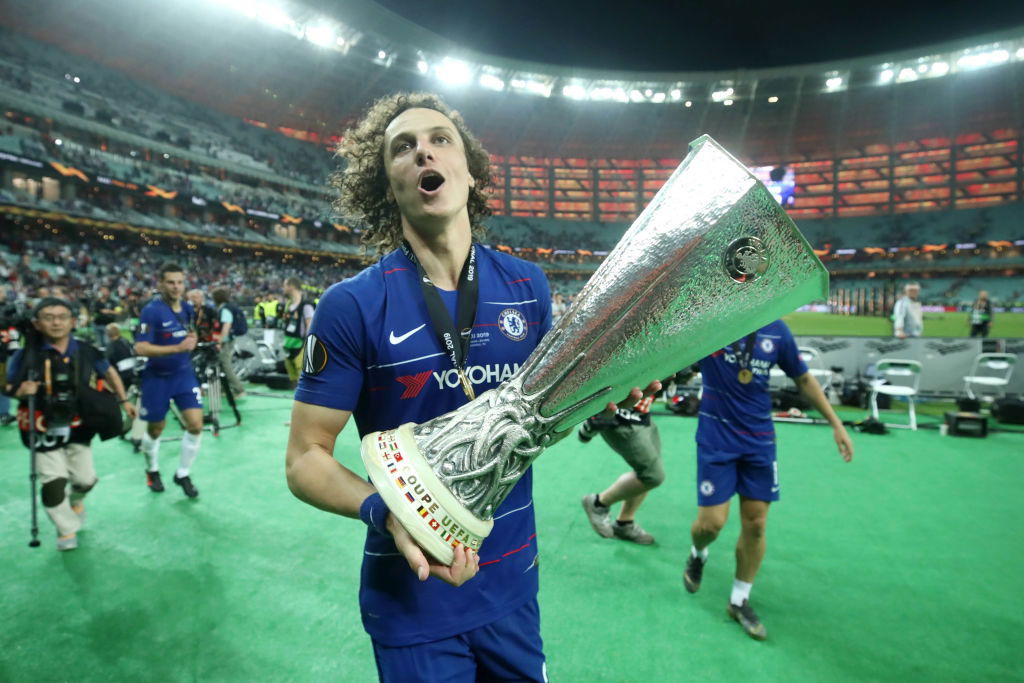 Center Backs
2018/19 Starter: David Luiz/Antonio Rudiger/Andreas Christensen
Cult legend "Geezer" aka David Luiz looks set to start another season in the Blues defense this upcoming season. This year however, he won't be flanked by Antonio Rudiger to start the season. Sarri preferred Rudiger early in the season but Andreas Christensen gained match time as the year progressed. Pair Christensen's maturation with an injury to Rudiger and Chelsea will feature Luiz and Christensen to start next season. Kurt Zouma may also provide some depth if he isn't sold or loaned out.
Projected 2019/20 Starters: David Luiz, Andreas Christensen

Right Back
2018/19 Starters: Cesar Azpilicueta
A healthy Reece James may have been able to push "Dave" out of this position but as it stands James is injured and this is Azpilicueta's position to start the year. Azpi is capable of playing across the defense and is one of the leaders of this Chelsea side. The Spaniard served as captain last season and bring consistency and spirit to a Chelsea team that is very reliant on him. James may eventually claim this spot but Azpilicueta will start day one.
Projected 2019/20 Starter: Cesar Azpilicueta/Reece James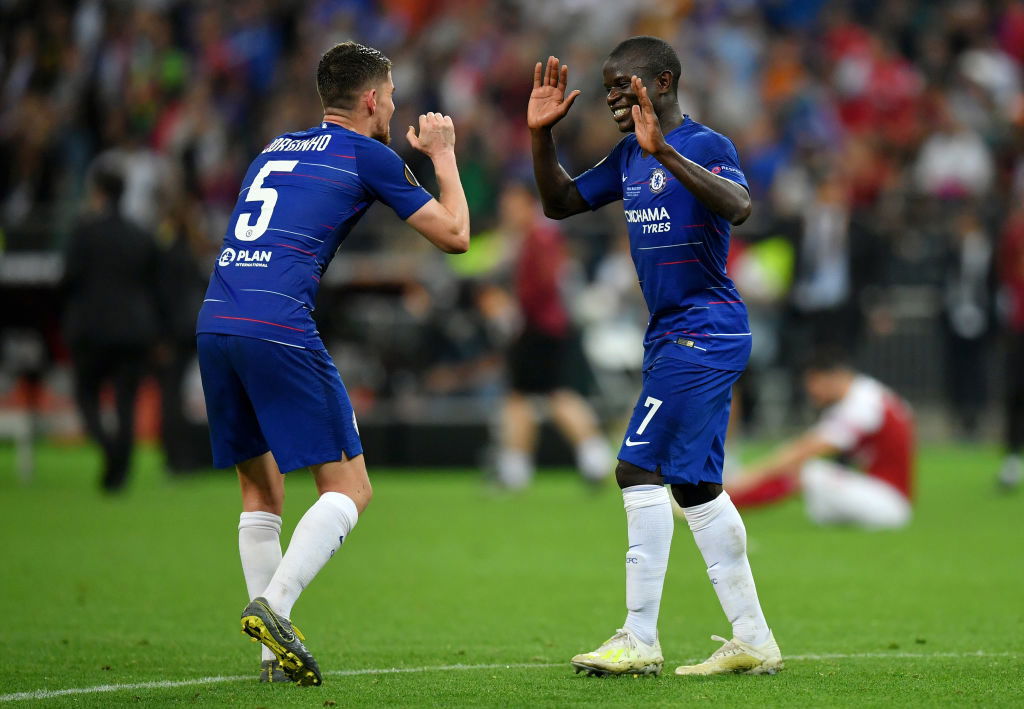 Defensive Midfielders
2018/19 Starters: Jorginho/N'Golo Kante/Mateo Kovacic
Rather than run the singular defensive midfielder that Sarri preferred, it appears Lampard will run a partnership of two in the holding position. The primary starters will most likely be Jorginho and N'Golo Kante, however Mateo Kovacic and Ruben Loftus-Cheek will certainly feature here as well. Jorginho has looked strong under Lampard's management and fans have begun to sing the praises of the often criticized Italian. Kante will be his reliable self, constantly running and winning possession. If Chelsea are to push for top 4 this season, it hinges on these two especially.
Projected 2019/20 Starters: Jorginho/N'Golo Kante/Mateo Kovacic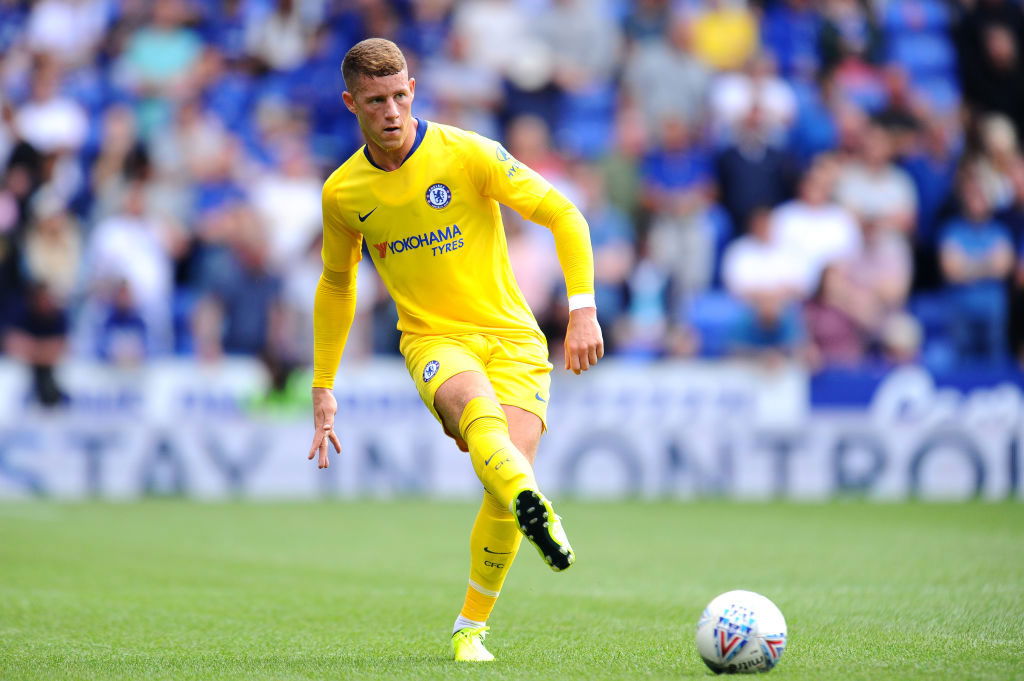 Central Attacking Midfielder
2018/19 Starter: Ross Barkley/Ruben Loftus-Cheek
Looking to ride a shining preseason, Englishman Ross Barkley appears to be the starter come Match Day 1 in the CAM position. Inconsistent at times, Barkley is improving with age and Lampard is the type of manager to help him make the next step. Barkley will have to hold off the young duo of Mason Mount and Ruben Loftus-Cheek (when healthy), as the two academy projects look for major roles this season. As of now, it looks as though Barkley will be the starter at the beginning of the season.
Projected 2019/20 Starter: Ross Barkley/Ruben Loftus-Cheek/Mason Mount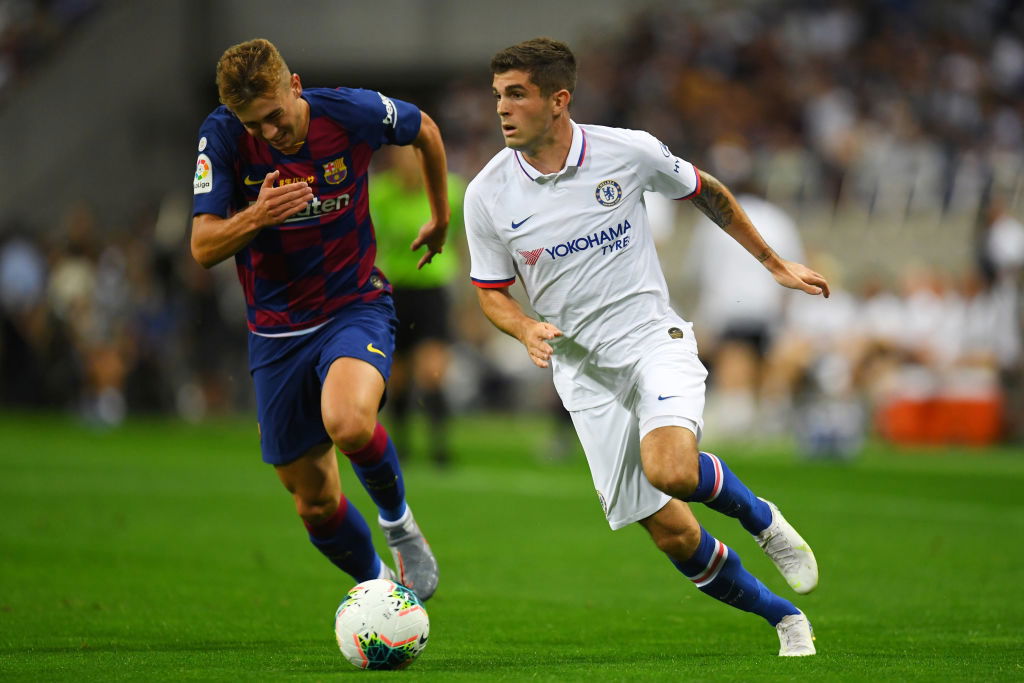 Wide Attacking Midfielders
2018/19 Starters: Eden Hazard, Willian, Callum Hudson-Odoi
One player doesn't make a team but the loss of Eden Hazard will be deeply felt at the start of the season. Hazard led the Blues in both goals and assists this past season. Now, his creative responsibilities rest on unproven Christian Pulisic, aging Willian and Pedro, and injured Callum Hudson-Odoi. If the wide midfielders can bring even half the spark Hazard produced, Chelsea will be able to tread water. Look for growth from Pulisic and Hudson-Odoi if Chelsea are to win matches.
Projected 2019/20 Starters: Christian Pulisic/Willian/ Callum Hudson-Odoi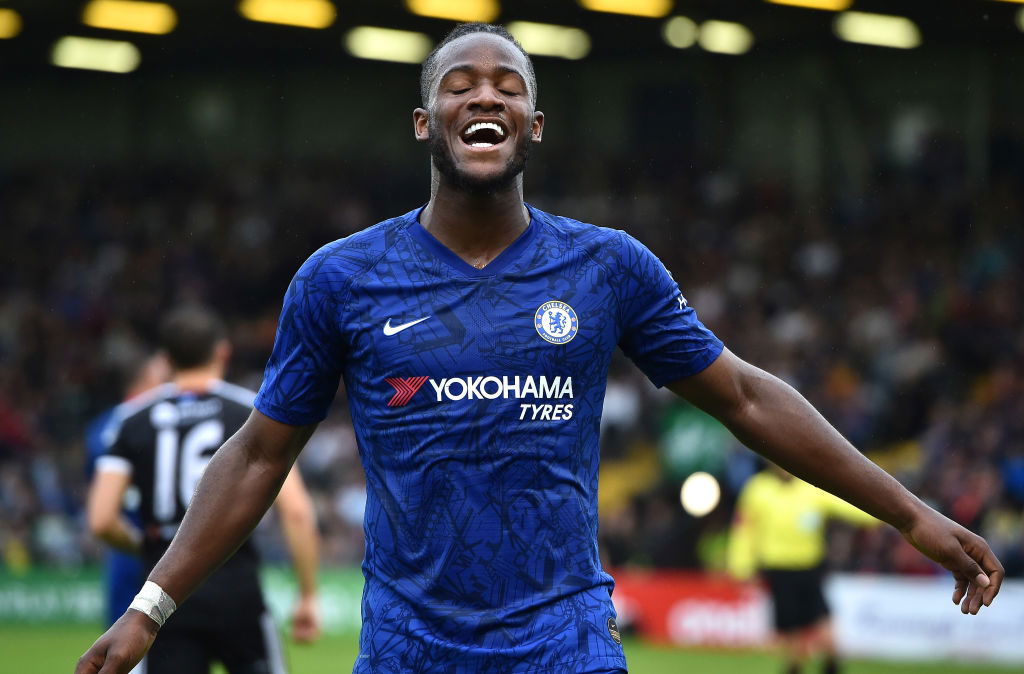 Striker
2018/19 Starter: Gonzalo Higuain/Olivier Giroud
This position may very well be a revolving door for the Blues this upcoming season. Olivier Giroud will produce magic on occasion and was serviceable for the Blues last season. However, he is not getting any younger. Michy Batshuayi was brought in with high expectations from Marseille but has fallen short so far. Loaned out multiple times, the Belgian hopes to stick permanently this time. That leaves young, unproven Tammy Abraham who is looking to get his first real chance with Chelsea. The Englishman has already been awarded the number 9 shirt and the heavy expectations that come with it. I expect the striking role to be one done by committee this year, but if I had to guess I would say Batshuayi starts against Manchester United in Chelsea's first match of the season.
Projected 2019/20 Starter: Michy Batshuayi/Olivier Giroud/Tammy Abraham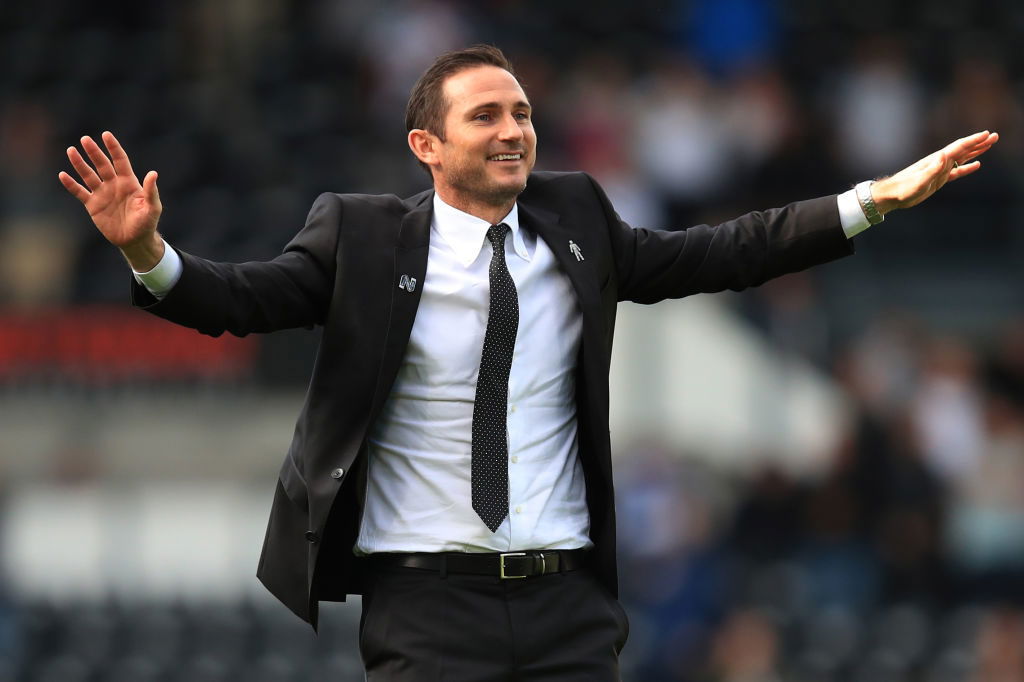 Projected Chelsea 2019/20 Starting XI
To recap here is my predicted 2019/20 Chelsea Football Club starting XI:
GK: Kepa Arrizabalaga
LB: Emerson (Marcos Alonso)
CB: David Luiz (Kurt Zouma)
CB: Andreas Christensen (Antonio Rudiger injured)
RB: Cesar Azpilicueta (Reece James inj.)
DM: Jorginho (Mateo Kovacic)
DM: N'Golo Kante (Ruben Loftus-Cheek inj.)
CAM: Ross Barkley (Mason Mount)
LAM/LW: Christian Pulisic (Callum Hudson-Odoi inj.)
RAM/RW: Willian (Pedro)
ST: Michy Batshuayi (Tammy Abraham/Olivier Giroud)
---