The potential ins and outs of Juventus
Juventus is now the undisputed champion of the Serie A. In spite of another dominant championship run, no other team has been able to trump the Turin giants despite the efforts from big names AC Milan, Inter, Roma nor Napoli; whom have come the closest within grasping the Coppa Campioni d'Italia.
During the 2018 summer transfer window, The Old Lady signed Cristiano Ronaldo. One of the most dominant athletes on the planet had joined an already unbeatable side. Being a Juventino myself, like the rest of the Juve faithful, we ask ourselves what is next and how can we achieve Champions League glory. We look at what positions need improvement and at different ideas that can best solve these issues.
First thing's first, what players we should keep or let go.
IN – Paulo Dybala, Joao Cancelo, Alex Sandro, Miralem Pjanic & Douglas Costa
These are all players linked with a move away from the J Stadium this summer that we CANNOT afford to lose. The way that Juventus has been operating lately, cashing in on these players would be devastating for the clubs stock market value and could potentially hurt their fans. Lately, fans were very opinionated on how Allegri was coaching the team prompting the club to part ways with the Italian. The full-back duo of Alex Sandro and Joao Cancelo were the best in Serie A and arguably the best full-back combo in Europe. Juve wouldn't be able to replace their chemistry on the field.
Dybala and Pjanic have also been linked to a move abroad but the fans have spoken. These two are talents too risky to move, the domino effect following the departure of any of these two will be difficult to endure. Some can argue that Joao Felix or Chiesa could replace Dybala, yet the club would have to invest more than what Bayern bid for Dybala recently (€80 million).
The same goes for Pjanic, we haven't had someone as close to Andrea Pirlo's style since his departure. Now hear me out. Douglas Costa is the next best dribbler next to Ronaldo and could be useful in multiple situations. Losing him would take away from our options during the season. We all know parting ways with any of these players could bite us in the "arse".
OUT – Juan Cuadrado, Martin Caceres, Sami Khedira, Mario Mandzukic
Oh Mario, how I love him. His passion and grit on the field. If there is a way to keep you on the books, let's do it. Unfortunately, teams are looking for someone like you and the decision is Kean or Mario. We could keep both but I do see Juve targeting a striker to pair up well with Ronaldo, so time can only tell.
Cuadrado and Khedira have been an absolute weight on Juve. These injury prone guys need to go, although i like Cuadrado's versatility, I couldn't say the same for Khedira. They both need to go to a slower paced club in an already slow paced league. I don't even want to get started on Caceres, there is a reason we let him go. Let's keep him gone.
Players On My Mind – Mattia De Sciglio, Mattia Perin, Leonardo Spinazzola & Daniele Rugani
These fellas are on my mind. Year in and year out, Massimiliano Allegri did a complete injustice to them. Say what you want about Mr. Allegri or any of these players, these players have not been given the proper chance. I think if they stick around, they would have opportunities under the new manager.
I know backlash is coming for my honest opinion but Mattia Perin is better than Szczesny. I said it last year that Mattia would be a better starter in the Serie A and I've said it before that Arsenal got the better side of the Szczesny deal. No hate on the player but he is inconsistent and we need to use our "second string" goalkeeper more often before we lose him.
Potential Signings – Box to Box Midfielder, Young Defender
These two positions are a must, we need another young defender to be developed alongside Rugani and they must be signed now. This will allow the new defender to be mentored by Chiellini and Bonucci, insuring our future in defense. Rumours say Alessio Romagnoli is being eyed by the Old Lady, creepy. I wished we had kept Caldara but that ship has sailed, in my opinion we should not only look at Alessio but Jose Maria Gimenez. He has Champions League experience and brings passion to his game.
I also truly believe the best midfield opportunity is Sergej Milinkovic-Savic. I know, I know, Pogba. Why not Pogba? Well why not, yet it's always a maybe. The Lazio midfielder has gone down in value significantly and Lazio might be looking to sell before his price just shoots down. So, why not?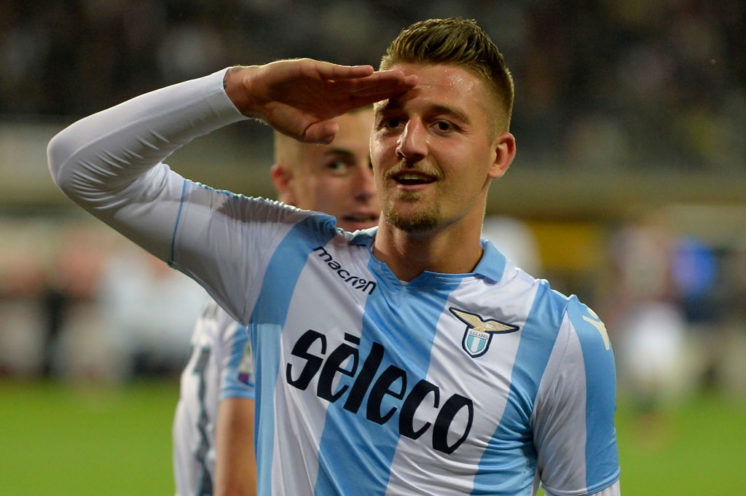 Potential Maybes?
Juventus are known for their smart buying, if the right player comes by and the right opportunity, you are almost guaranteed they will make a deal happen. Now that the Serie A is attracting more talent, Juventus is easily one of the first choices. The Turin giants might go after a designated striker and a goalkeeper, depending on the situation. It really depends, let's say Mario decides to leave or Moise Kean doesn't re-sign a contract because Gonzalo Higuain comes back alongside Maurizio Sarri. We could lose out on 2 good strikers in place of a washed up player that is almost certain to be moved in the summer.
Well, they have to either move Ronaldo to be the striker which would actually work making way for Bernardeschi and Dybala to play around him. This would be ideal but, and it's a huge but, that would all depend on the new manager. In which case, I would like them to sign Aubameyang or Timo Werner. Either can bring youth and splash of energy up front.
Let's also be realistic about the goalkeepers. Allegri caused uncertainty giving way for Mattia Perin to eye a move away after only featuring 9 times for the club. The hope for a Buffon replacement looks bleak which may prompt the club to find the perfect number 1. My pick, David De Gea. A great goalkeeper that could compliment a great defense.
Finally, who's the boss?
Enough with my FIFA career mode antics about Juventus! Dreaming of, Poch. Versatile, diverse and can play attacking football. I would like to see what he does with a complete team. Realistically, Conte or Sarri would be coaching but those two can only bring a disaster and personal vendettas with other clubs. Wild card. Pep Guardiola. Investors are ready to pay for Pep if he decides to leave Manchester but the question is why would he leave?? I guess it's a waiting game now.
---