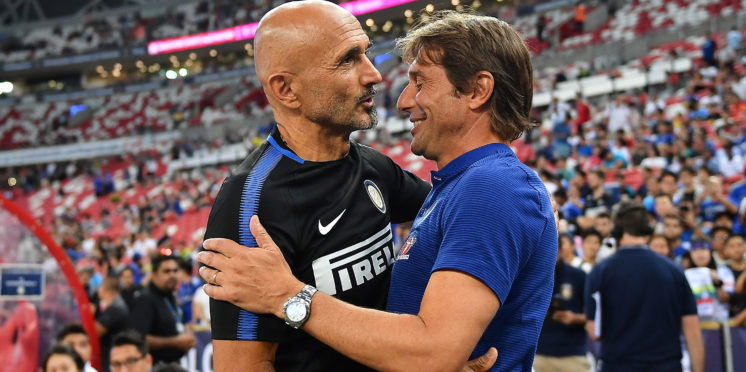 Conte joins Inter, replaces Spalletti
Serie A giants Inter have announced Antonio Conte as their new head coach on a three-year deal Friday morning.
According to the Calciomercato, Conte will earn €10 million a year plus €2 million in bonuses.
He replaces Italian tactician Luciano Spalletti, who was sacked on Thursday morning.
Inter president Steven Zhang spoke about his hopes of Conte achieving the club's mission in a statement to the official website.
I'm sure that Antonio Conte is one of the best coaches out there. I'm certain that he'll help us achieve our objective and fulfill our mission, one which has always remained the same: to make this club one of the best in the world again.
Conte also spoke to the club's official website, stating that he is excited to start a new chapter in his managerial career.
A new chapter in my life is beginning, I'm really excited. Through my work, I'll try to repay all of the trust that the President and directors have placed in me. I have chosen Inter because of the Club it is, because of the project's sound basis and how ambitious it is. Because of Inter's history. I was struck by the Club's transparency and the desire to bring Inter back to where it belongs."
Spalletti did a decent job at Inter, respectfully, taking the club from competing with mid-table teams to clinching a very important Champions League spot. The Sunning Group has made it clear to the fans that they want to grow and always become better.
Taking the step to sign a coach that can take them to the glory level is evidence of their desire to win. It is no secret that Inter look forward to announcing the signing of Diego Godin, adding more quality to the team.
Another step they need to take is keeping Mauro Icardi. The Argentine forward is by far their best player and will look to stick around if the club signs quality players. Recent reports suggest that Antonio Conte prefers signing Romelu Lukaku and Edin Dzeko, and wants the club to sell Icardi. It will be interesting to see what happens there.
With everything going on in the Serie A, Inter's next coach is in for a challenge.
---